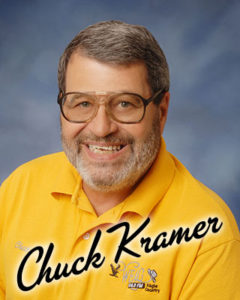 Twenty-five years ago this month, on a foggy humid morning just after daybreak I was driving a rented moving truck down I-95 across the border into Florida. In the truck were all the earthly possessions of a guy who was not only my former boss, but had also become a dear friend.
Chuck Kramer, my former morning show partner and the best man at my wedding a couple of years prior had taken a chance on what could be a tremendous career opportunity. Taking over management of a small AM-FM combo, WEAG, in north central Florida. He was upending his life and pulling up his family's South Jersey roots to take what could be his last big opportunity in the crazy world we call radio.
As we crossed the Florida line, I heard a POW, and the truck began to swerve. It was all I could do to keep it on the road. I managed to swing the big truck into the "Florida Welcome Center" where by the way they used to offer complementary orange juice to weary travelers. It was as I suspected. A blown front tire.
Chuck called the local road service number for a mechanic. We were only a couple of hours from our destination, and the radio station owner was expecting us around 11am. Being from the northeast, this shouldn't have been an issue. Tow truck comes out and flips the tire, and we're on our way. The mechanic answered the phone in a pronounced southern drawl that was difficult for us from New Jersey to follow. He told us that he needed to put on some pants, and he would be out around noon.
Welcome to Florida!
Chuck hired me in February 1985 to do news and co-host his morning show on 98.3 WDVR (We DeliVer Radio). I was only a year back from a post college stint as a show announcer at the Miami Seaquarium and wasn't having much luck getting a job in local radio. Truth is, I had taken a quickie vacation back to Miami a few weeks prior and was seriously considering going south again when I got the word that this new radio station was looking for people. Chuck and I hit it off, and I was in the door.
Chuck grew up in the Chelsea section of Atlantic City. Legend has it that he operated a pirate radio station out of his closet before he was a teenager. In high school, he earned extra money from classmates with his already rich baritone voice by calling the attendance office and pretending to be a father granting permission for their child to skip school. This important proving ground prepared him as he began working at area commercial radio stations, and finally realizing his dream of starting his own station.
But, things change. Chuck's partners didn't share his love of radio and WDVR was sold a few years later to outside investors. It just wasn't the same for Chuck after that. He left the station and bounced around a few years before getting a call out of the blue from an old radio engineer friend. He had bought this AM-FM combo in Starke, Florida and wanted Chuck to come down and run it for him. It was a big decision, leaving South Jersey. But. Chuck saw the real opportunity to shape a small market media outlet into a real voice of the community, the kind of radio he loved best. So, he took the chance.
And it worked.
Fast forward twenty-five years. The station under Chuck's leadership has become a model for local small town radio. Involved in the community, financially supported by the community, and loved by the community. Starke, Florida is now his home. His wife works the station office and his daughter is the midday show host. Chuck did exactly what we hoped he would do. In a world of electronic interaction with global issues, where small town relationships seem to have been forgetten, Chuck's station shows the power of local radio and the relationships that develop between broadcasters and their clients and listeners. And this benefits us all.
Congratulations old friend. Here's to another twenty-five years! And in the words of the man himself…
"This Case Dismissed!"